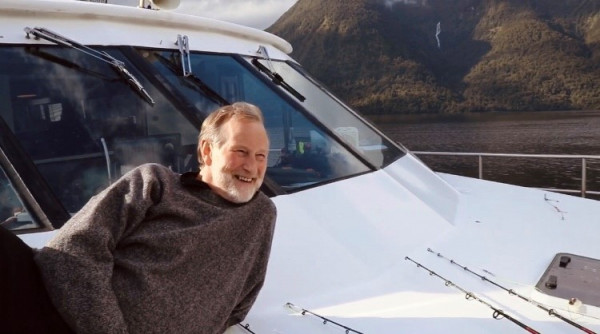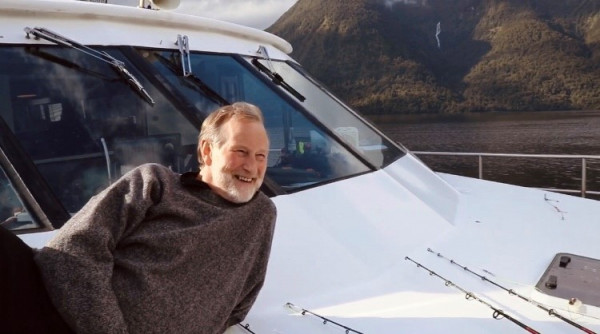 Service Details
Ascot Park Hotel
Cnr Tay Street and Racecourse Road
Invercargill
3 May 2021, 1:00PM
McDONALD Ken Francis
After months of support from family and friends, Ken passed away peacefully with his family at his side at Hospice Southland on Wednesday 28th April 2021, aged 63 years.
Loved son of the late Angus and Jean.
Dearly loved father and father in law of Anna and Josh Campbell, and James.
Loved brother and brother in law of Ian* and Yvonne, Barry and Anne (Hastings), Jeanette and David Dickson (Gold Coast).
Loved Uncle and Great Uncle of all his nieces and nephews.
Family wish to sincerely thank many carers from Healthcare NZ and Hospice Southland for their devoted care of Ken.
Ken was an instrumental member of staff at SIT for 32 years.
A farewell for Ken will be held on Monday 3rd May, 1pm at the Ascot Park Hotel, Invercargill. A private cremation will follow.
Messages to 20 Montrose Street Invercargill or to Ken's tribute page at frasersfunerals.co.nz/tributes where livestream details of his service will be available.
(*denotes deceased)
My deepest sympathies to James, Anna, and the family. I'll dearly miss the lengthily conversations held over the fence about family, relationships, finances and who had the better crop of vegetables in the garden or his tips on tomato growing. I always enjoyed Ken's fantastic stories of his travels overseas and our standard chats after a hunting trip usually ended with his freezer acquiring some freshly shot Venison or Duck. A great guy and a brilliant neighbor, tight lines Ken.
Gregg Peters, invercargill
Dear Anna James and Josh...... our sincere sympathy and thoughts are with you all.
Ken was one of our favourite neighbours during our time at Clifton and King Streets.... lots of laughs and social events.....
You will miss him terribly....cherish those wonderful times you had with him.
John and Jane Pearce, Invercargill
Our sincere condolences. Ken was a great friend, mentor to all of us. He has been there for all our ups and downs over the years ever since we moved to Invercargill. We will always remember and will cherish his friendship very much.
Sia Family, Invercargill
Working with Ken for quite some time I have so many memories of his humour and warmth and kindness – always teasing me about my frown lines, the way I answer the phone, peering over the top of my frosted glass wall to see who I'm talking to in my office with a cheeky grin, bringing the whole team back head scratchers from India. The list goes on…
We've seen so many changes over the years within the team and wider community as Invercargill has become more and more multicultural. Ken has been a key figure throughout.
There have been lots of highs and lows over the years and it has only added to Ken's empathy and compassion for other people. It would be impossible to count how many International students he has helped and supported over the years.
He's a wealth of knowledge and has entertained me many times with stories of his escapades, but he's also a great listener and genuinely interested in other people.
Ken, SIT will not be the same without you and you will be greatly missed. My deepest sympathies to Anna and James who he has always spoken of with such love and pride.
Terri Barrett, Invercargill
I hope you'll be happy with Jesus every day when you go to heaven. You are the gentlemanest teacher I know. Thank you for helping me
Lexi He, Auckland
Job-1:21 Naked came I out of my mother's womb, and naked shall I return thither. The LORD gave and the LORD hath taken away; blessed be the name of the LORD.

Isa, Mr. McDonald we cherish the memories, joy and lessons you taught us, the Fijian students at SIT, INVERCARGILL. Beautiful soul inside and out, always have a smile on your dial.
There is a spiritual belief we hold onto, that only God gives us comfort, and at this time He will surely comfort your family.
Rest in peace in the bosom of our Creator.
Blue skies and beyond Ken
Alohalani. Tuidraki, Nadi, Fiji Islands
An amazing and very approachable person. Always welcoming was his character. Had the privilege of meeting him on multiple occasions during my study tenure at SIT. God bless the noble soul. RIP Ken. We shall reunite soon.

Deepest condolences to the family and near & dear ones.
Kunal Trehan, India
Goodbye my lovely cousin Ken. I didn't meet up with you many times over the years because of the distance between our homes, but you were such fun to be with. I will always remember you with great fondness. Arohanui.
Judy McMahon, Upper Hutt
Ken was one of the very first who welcomed me to NZ and made my life easy and comfortable at SIT. He was a loving father figure to me. I can never ever forget his caring and kind ways. I'm sure that pastoral care at SIT will not be the same without Ken. As a Buddhist, I wish he will attain the supreme bliss of nirvana one day. Good Bye Dear Ken, your memory will be everlasting.
Chamila Ratnayake , Invercargill
Ken, I was lucky enough to know you most of my life. You taught me a lot of life lessons from duck shooting and fishing, to how to hook up with girls, much to Dad's disgust.
You were always the one to make people laugh and smile and your stories around life adventures will be greatly missed.
I have too many amazing memories I can't even begin to pick my favourite but the pranks you and Watson pulled against Dad are among my best. Your ability to always catch the biggest and most fish whilst Dad was trying to give you 'tips' despite the fact that you were actually the better fisherman always makes me smile.
Rest In Peace mate and I hope you and Dad are having a drink and laugh together.
Douglas Ridsdale, Perth, Australia
Sad to see of Ken's passing. A friendly person of warmth. Anna & James look back on him with fond thoughts, he was a warm hearted person.
Jamie Kerr, Lethbridge, AB. Canada.
Deepest deepest condolences....😔 Such an amazing and lovable person. Those who met him once will never forget him, especially his heartwarming smile.... He will be in our heart....

Lots of love and prayers

RIP Ken
Neena Jijo, India
Our sincere condolences.
As I'm an international student of SIT, Ken and his staffs have helped me a lot to adjust here with great effort and passion. I still remember his bright smile and humor, also I will remember his kindness and passion.
EUNSIK KIM(Gilbert), Invercargill
thank you Ken for taking care me when i was in Invercargill. you always be missed.
Yenny k, invercargill
You always be missed Ken. The warm and beatiful memories with you will always be remembered to wme and all The SIT International students. May you rest in peace humble man. See you in another time and place.

My deepest condolences to the family and SIT.
Krisyanto Ekokurniawan, Jakarta - Indonesia
Our deepest condolences to MacDonald family. He will be duly missed by the entire Selset Education family in Malaysia.
Rick Yong, Subang Jaya
I hope your life with Jesus will be way better every day. Your pastoral care during SIT made me touched and I am really grateful to meet you. Thanks for your help to all the International students. You are a responsible, humorous, kind man to me.
Marshall ( Hai Liu ), Invercargill
So sorry. He was a top guy. Your whole family are such lovely people. Kind thoughts.
Neil Chapman , Tauranga
My deepest condolences to Ken's family and friends.
Ken was very caring and supportive to my family when we moved to Invercargill in 2014. We would never forget his visit on the first night we spent there, his humour and smiles, his encouragement and supports, his friendliness and gentleness.
May you rest in peace, Ken.
Claire Tee and family, Christchurch
Please accept my deepest condolences for your family's loss. Ken supported me a lot when I was a student in SIT.He was a great man.Rest In Peace.
Rocky Hu, Invercargill
Dear Anna, James and Josh. I'm so sorry for your loss. I've been thinking about you so much these last few months, and hope you feel some solace this weekend being with family and friends.
And to Ken, thank you for being such a loving and fun uncle. You were open and honest, connected and generous. You taught me how to cartwheel, and threw the greatest parties and Christmases. One of my most exciting and vivid memories was with you in the Clifton caves. I hope I can teach my own kids the same sense of love and adventure. Love Julie
Julie McDonald, Melbourne
May the many happy memories of Ken and the love of family provide strength in the days ahead. Glen and I enjoyed our meeting in Dunedin last year and were struck by Kens wit and happy nature. Australian cousin and Angus McDonalds niece.
Ruth and Glen Rogerson, Palmwoods
It was great re-meeting you in November 2018 and then getting to know each other as adults Ken. Thank you for being the good and fun person you had become - my thoughts go to all your Whanau and may you be at peace now - flying high - much love from us both Cousin Ken - love Michelle M Scullion and Richard Bluck - xox
Michelle M Scullion and Richard Bluck, Paraparaumu, Kapiti Coast
THE BRIGHTEST STAR – BURNS QUICKER
Quite frankly he was too good for this world.

A wonderful person with a magnetic pull and ability to befriend and disarm anyone's armour, Ken was able to get people to open up and communicate. He developed long-lasting connections with everyone he met, and so many people from all around the world will be grieving this immense loss. To have had this connection with Ken will be one of our greatest gifts of life. He was so selfless, caring and empathetic, always putting others first, often sacrificing his own needs to do so.

I have been living away from NZ for an exceptionally long time. I have lots fond & fun memories. As young kids we enjoyed a very carefree, albeit adventurous farm life. Dad being unwell we all pulled together at a very young age with farming & lambing duties. The pranks were sometimes fierce, me being the only sister of three rather strong brothers, there were always lots of antics – see water 'drown Jeanette', see boat – 'throw Jeanette overboard', see slug gun – 'shoot her'. So, I recall the comebacks as their 'little sister' 'had' to be brutal... I do confess there may have been a very hurtful 'adoption' story in there (Ken having super fair hair and skin whereas we were all darker). Life went on and the boys all went to Boarding school – Ken to Saint Peters in Gore. One day he rang from the bus station – he was back in town unannounced. He had been expelled for drinking in the movie theatre. The penance was to tell your parents yourself – of which it did not go down well! I was convinced our Mum was a saint with all the escapades and yes, Kenneth being the youngest - was her favourite!

We all travelled the globe near & far still having lots of now more worldly adventures and escapades. The pranks still continued – I recall being woken in the wee small hours of the night from a deep sleep – 'what's that noise', a loud roaring motor type sound coming from above! There was a lawnmower roaring on the roof of our house – nobody to be seen. Of course the culprit was Ken & a mate!! He was a prankster!
He was just the greatest uncle to our girls – Jenna & Pieta – they have the fondest memories of their young years – camping in Wanaka is among many. More recently (as I am a Travel Agent) I was able to work with Ken arranging his many SIT grueling international work trips. They were often way, way off the beaten track & complex for some but he knew I had always been there & would know the best routing, flights, accommodation & deals etc for him & more especially have him safe.

It has been hard on me to know he was unwell especially from over the DITCH, but through my constant terrorizing him by phone & updates via social platforms, we kept our connection with everyday life, the highs, lows & challenges. It has been at the least one outlet for Ken to pour his heart out & bounce thoughts which was truly needed during this terribly challenging time for him.
I cannot be with you for your celebration of life on Monday. But I feel in my heart I have been with you every step of life – your biggest fan. Your life has been a great one although cut way too short.

Farewell little bro – I hope there is one hell of a party up there awaiting you… (with the good scotch & international cuisine).

Send me a sign – tell me now.. who did shoot my beloved dog DEEFER??
Luv you always – your sister Jeanette

Jeanette Dickson (McDonald), Gold Coast
My dearest friend Ken, thank you for all the good memories and special moments we share, thank you for all your help and encouragement since the first day I was in SIT or while I was working. The last message you've sent to me is"looking forward to seeing you soon "..and yes we will.. R.I.P Ken, I will always miss you.
Deep condolences to your family.
Chanelle Liu, China
My sincere condolences to his family. Ken was one of the most genuine person I have ever met in my entire life, he was very kind hearted and looked after everyone around him. Working with him at SIT was never like a colleague, he always made me feel so comfortable and treated me as a friend & family. As a new comer to invercargill I learnt so much about lifestyle in invercargill / New Zealand and about the real world from of his wealth of knowledge and experience. I regret not been able to speak to him and tell him the new job opportunity I got, because he was always so helpful to me. He was always approachable and helpful to make my decisions at personal as well as at professional level. Hey Ken, thank you so much for all your support and sharing your knowledge and helping me throughout. My condolences to his family and prayers to his family. Good bye Ken, I am sure you are at a better place now.
Prashanth, Invercargill
Extending heartfelt condolences at this difficult time. You will always in our mind. Thank you for everything you gave. R.I.P
Sakchai Lotus Khusawat, Invercargill
James, Anna and Josh and extended family, our thoughts have been with you at Ken's passing and the Tributes to him today at his service were amazing describing him as he was. We have fine memories of Ken as our Neighbour in Clifton Street , of all the BBQ's and social occasions, it was special times as our family grew up . Love Nan and Peter and Family
Nan and Peter Wright, RANGIORA
Leave a message for the family of Ken McDonald