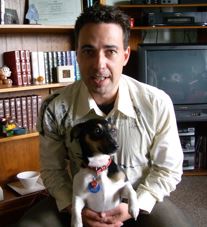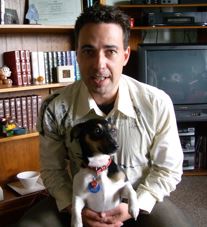 (Attendees by invitation only due to Covid19 Level 2 restrictions).
20 September 2021, 10:30AM
LOW, Darryl Graham (Daz, Lowie). 14 November 1974-11 September 2021.
It is with great sadness and heavy hearts that we announce the passing of our dearly loved son, brother, brother-in-law and uncle on Saturday, 11 September 2021 at Christchurch Hospital; aged 46 years. Son of Graham and Jan (Janice), brother and brother-law of Karen and Russell Keen, and Gary and Michelle. Super fun and mischievous uncle of Jason and Therese (Sweden), Daniel (Whitby), Samantha, and Paige; friend to Caleb and the late Sheryl; and loyal companion and best friend of his Jack Russell terrier, the late Sophie. A special thank you to the medical staff of Ward B5 at Christchurch Hospital for their dedicated care and support of Darryl.
A service to commemorate Darryl's life will be held on Monday, 20 September at 10.30am. Please wear something bright in Darryl's honour. (Attendees by invitation only due to Covid19 Level 2 restrictions). Tributes may be left on Darryl's tribute page at frasersfunerals.co.nz/tributes where a live-stream of the service will also be available. Messages may be sent to 85 O'Byrne Place, Invercargill 9810.
"Reunited with his loyal companion, Sophie … Forever Young … Exit, Stage right."
Messages
Some of my funniest and loveliest times of my youth were with you Darryl,oh the laughs we had ,you Jo and me.Camping 🤣 going to Arrowtown ,Australia and our fun times at Chelmsford street.You will be sadly missed but never forgotten....Shine on my friend,the Show must go on! Xxxx
Carmen Steuten , Weert,Nederland
My beautiful, talented, funny, loyal, hilarious, 22 year friend. Every time i think of the things we have got up to over the last 22 years, I will laugh and cry at the same time. You, my dear friend, will be in my heart forever. Every time i hear Abba, or go to the Sorry Wine Bar, or see our Kermit the dog puppet or a knuckle bone set, i will think of you. You brought many years of joy to my life. I will miss you for the rest of my life. I told you on Thursday how much I love you, and I meant it. Still cannot believe there will be no more teaching you to cook parties. Gazebo breaks, open homes. Love you my darling Darryl. See you in heaven.
Linda McMeeking, Christchurch
Sending my thoughts to Graham, Jan and all the Low family, truly sorry to hear the sad loss of your treasured Son, Brother and Uncle😘

Jo Toogood, Gore
There is a hole in my heart. Love you Darryl. Miss you forever! ❣
Diana Burgess, Christchurch
There is no beginning, middle, or end of Darryl's life and the love he gave. The bard is right...all the world is a stage, and the ones who exited too soon, maybe without fuss or a soliloquy, are truly the lights of at least my world, that will be missed the most. Linda McMeeking is definitely right; that every song, dance, and improvised spontaneity of joy that was shared or `taught' by being in his delicious presence, will always be remembered through laughter and tears....and what a belly-ache of a laughter it will always be.
Sandy Wilson, Christchurch
Rest In Peace at last dear Daz thanks for the happy memories love Joy 🧚🏼‍♂️🦋🤗😘 Sincere condolences to family
Joy Falcone, Brisbane (formerly Hayley staff)
To Hagley Finance team's Prince Charming
We are devastated to have lost you, you made some of our work days lighter and funnier, and we loved our chats. We made each other laugh which is nature's therapy. We were sad to notice your absence more and more in past years and were aware you had a struggle on but were private about it. We enjoyed hearing about Sophie, Caleb, Sweden, and you supported Sheryl so much. Caroline in Finance loved you and you were a great comfort to her as she went on her cancer journey and you were at a medical appointment during her funeral in 2016 so were unable to speak at her funeral. I trust you had the comfort of your closest friends on your final journey as you were such a comfort to others. You were part of the Hagley institution and thank you for taking the time to farewell my time there in March after 25 years, love Judy ,Head of Finance
Judy Philips, Marshland, Christchurch
Darryl always brought such a smile to my face when I walked into class. He had so much character trapped in such a small body and I always enjoyed performing for him and working with him. My favourite production was Tai Tour that we got to perform to a number of schools and the daily drives from locations was filled with so much laughter. He will be sadly missed among many x
Beka - Former Student, Christchurch
My heart goes out to all of you. Thinking of you all with great sadness.
Iris Robinson, Invercargill
Low Family sorry to hear of your loss express my sympathy
Neville Raymond Bulling, Invercargill
Graham and Jan, please accept our condolences on the loss of your son. Debbie and Ross McCallum
Debbie and Ross McCallum, Alexandra
Graham and Jan, please accept our condolences on the loss of your son. Debbie and Ross McCallum
Debbie and Ross McCallum, Alexandra
Sending love and sympathies to the family. We know how hard it is to lose a brother and we feel for you with all that you are going through. Much love to Gary, Michelle and Paige.
Jan and Mike
Jan Kerr , Invercargill
Sorry for your loss Graham Jan & family.
Marmora Thompson , Invercargill
At this sad time l am so glad to have made Darryl so very happy during all the good times with us at Ballet Arts Nelson.
He used to say that he looked forward to our Christmas shows all year, he loved the drive up in various beautiful cars and I looked forward to him coming, he gave me the confidence to do what I did from the moment he walked in through the studio door each year. Our work, together with our friends from the Royal NZ Ballet, made hundreds of dancers and audiences happy. And I know his talent as a theatre teacher reached hundreds of Hagley students and Children's Theatre kids.
As a Director I first knew him through his production of "A Servant with Two Masters" and I first saw him onstage in one of his shows with his students, he was luminous with those haunting blue eyes and his quick delivery.
Being a servant of the two masters of his inner self, I do believe he was closest to his real self when with us working and partying with Ballet Arts and at this terribly sad time I shall hold on, through my tears, to the memories that pour out from all those years and his happiness at being amongst us.
That's the Darryl I will hold in my heart.
Love to you Razzle Dazzle and remember "Always look your Best!"
Louise Hawke Director Ballet Arts Nelson



Louise Hawke, Nelson
Hey Daz, it's just me 😊 This is your Tribute page, but you know that already. Man you're such a drama queen! If you're not making people laugh then you're making them cry! Lord knows we spent 'years' laughing together and I have most certainly shed tears over these previous days. I have waited to leave my Tribute for a few days because I simply didn't know what to say about a friendship so massive? I felt I had to quantify it in some way. Then I realised that not only did I not have to do that, but I couldn't. I can talk about what an incredible talent you are, in every aspect as a creative but we all know that and it will be said so I dont have to say it. Instead, I thought I'd share a few snap shots of moments we spent together. Daryl Low, Associate Artistic Director of The Hagley Theatre Company. Cory Richard's, Associate Director of The Hagley Theatre Company. A typical morning...I arrive at work, your already there. You always were. Me "Hey Daz, where's your cup? I'll make us a coffee and I'll be back" You, slide your cup across the desk "Well of course you'll be back, otherwise where are you going to be? In Cameron's office drinking both our coffees?" Me "Well no. I thought I'd make them, drink mine and take yours outside and offer it to passers by in an effort to make a new friend" You "You're going to try and use my coffee to make a friend? I count your chances as being low! Do you have any cash?!" Laughter. Power walking around Hagley Park in an effort to get fit, only to stop half way for a cigarette! And laughter. Evenings spent with a few wines and taking Sophie for walks. Laughter. We have not seen eachother for almost a decade but kept in touch. I've loved hearing about your adventures. To Sweden. Your time spent with Caleb. The video's you sent me of you and Caleb's 'Terrifying' off road adventures together, where the only terrifying thing was you! Which brings to Caleb. Darryl spoke of you with the highest regard. I was his best friend, separated by years. You are his best friend, separated by moment's. I can only imagine your heartache measured by mine and my heart feels broken. To you, my unknown friend. My deepest regards. To Cameron Mattox. Hey Boss. What do I say? You were not only a teacher, mentor and friend but you were also a Father figure to both Darryl and I. You have lost a son. I have a son. I can not begin to imagine. And finally to Darryls family. Darryl was an exceptional part of my life. Thank you and again my deepest regards. Cory.
Cory Richards, Home..Chch
I will leave a poem here.
------------------------------------------
Death arrived at the end of this Winter
And he took you away
I hope you are no longer suffering from the  pain
I hope you are no longer suffering from your sickness
I hope you are free from everything and being carefree

I will treasure the moment you shared time with us.
Your cheeky jokes, your ridiculous laugh, your kind heart, your outrageous remarks, and all the fun things we have done together will be in my memory cave.

The death arrived earlier
Without footsteps
And no traces have been left
Just like as always have been

My empty soul is hungry
The sorrowful wind blows right and left
Nanako Sato, Christchurch
Thoughts are with Graham, Jan and family
Lyn Turia, Invercargill
I was one of hundreds of students Daz taught through Hagley Theatre Company. We always joked that he and Cam were like the ma and pa of the company clan. But it was true. Both of their offices may as well have been for counselling. They saw tears. But laughter is the soundtrack of my memories of Daz.
'Razzle your Dazzle' is what he told us Sheryl used to say to him. He definitely dazzled. I can picture him sneaking in and clowning around behind Cam's back while he was trying to teach.
He wrote a song for our Tai Tour van which had us in fits of laughter. The same van that he drove us calmly (I was crying) back to base after the 2011 earthquake.
In reference to a comedy, he used to refer to us as a village, and we all had our roles. I thought of myself as the village crazy. Daz was there for me through a crazy time, in a very calm, patient and accepting way. I'm not sure I ever thanked him properly for that.
Daz gave me the chance to teach children through his baby company; Stage One. I have a memory of him sitting on the floor of the Open Stage, in a circle with young children, playing drama games. They absolutely delighted in him. And he in them. It was magical.
I know I only knew a small part of Daz, and that there are many hurting much more than me right now. I am thinking of you especially, Cam. As Flimsy as it may sound; my condolences to you all.
Alice Parker , Christchurch
I'll never forget your amazing leadership and talent in 'Bette and Boo'. You helped me immensely in gaining the confidence to shine in that play. You made it fun and really helped all of us grow. It is sad to see you go and you are an amazing leader to so many. So many amazing memories created at Hagley Theatre Company. Your laughter would fill the room. Thank You for everything you inspired creatively. You are a true legend with a huge heart. Your memory will live on in our creative hearts forever....Goodbye Darryl
Charlotte Watson, Christchurch
Darryl was a very special soul. He has given so much to the world through sharing his immense gift as an actor (and more!). He has helped countless students to connect to their gifts too. What an amazing contribution to so many people. Thank you Darryl, the world is better off for having had you in it.
Lisa Allan, Christchurch
To the one and only Daz...
Words can't express the shock and sadness to hear you have moved on to wreak comedic havoc in another world. I only wish I had made time for that well overdue catch up much sooner.
You have been a huge part of so many lives, not only your family and close friends, but all the lives of the young (and not so young) people, who were graced to be part of the Hagley Theatre Company family over many years. You will leave a huge gap, and will be missed by many.
I for one, will be standing for the ovation of your final curtain.
Much love to you - my tutor, my colleague, my old friend.
I hope the clouds can support the giant glass of wine that will be waiting for you tonight, and go easy on the sarcasm up there - they might not be ready for you!
All my heart & respect, Mandie xx
Mandie Ashwell, Christchurch
Darryl, you were a great teacher and actor, you always made me smile and laugh, every time I would visit with the boys you were so good with them, showing them around the theatre and sharing stories and theatre secrets about me. Darryl, I learned so much from you, I value the way you taught and directed it has encouraged the way I teach drama to my students. You grew my confidence and helped me strive for success.
Thank you so much.
Annie Brodie-former student, Christchurch
So sorry to hear of the passing of Darryl. I fondly remember all the good times and laughs at theatre sports and at our family home. He will be remembered for his smart wit, huge smile and talent. Thinking of you all xx
Rachel Russell (nee Muir) , Invercargill
What can I say Darryl. I treasure our time together in the Theatre Company and personally. Your brilliant and wicked sense of humour made you a favourite with the Lahy-Neary's. I am still in shock and saddened that I didn't get to see you one more time... Sleep well my friend.
Love Wendy, Jonathan, Monty and Pippi
Wendy Lahy-Neary, Milan
Darryl, you will be sorely missed. You were such a fun loving, friendly outgoing person to be around. You had Dave and i in hysterics from our morning trips in Sydney from our accommodation to the Indoor bowls several years ago . Over the short years we knew you, you were a joy to be around. Gone way to soon but God obviously has another purpose for you. My servant has another role.
God thought you were getting tired, And the cure was not to be. So he put his arms around you And whispered, " come to me"
A golden heart stopped beating, hard working hands at rest.
God broke our heart to prove to us , he only takes the best. A bright shining star has left us but will always be shining down on us.
Sincere Condolences to you all Graham & Jan, Karen & Russell, Gary & Michelle and families.
Bev ( Her Highness ) and Dave Christchurch

Bev Diamond, Christchurch
Leave a message for the family of Darryl Graham (Daz, Lowie) Low
Leave a message as a family member of Darryl Graham (Daz, Lowie) Low
Service for Darryl Graham (Daz, Lowie) Low